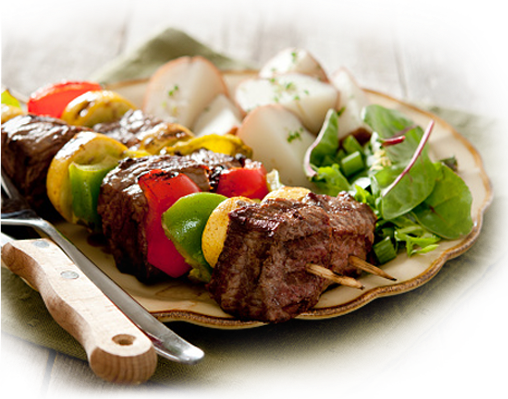 ½ Kilo Beef Tenderloin (sliced thinly)
For the Peanut Annatto Glaze:
½ cup Annatto Oil (Achuete Oil)
½ cup soy sauce
8 pcs calamansi juice
2 tbsp Sorel Coconut Sugar
2 tbsp garlic (minced)
1 tbsp ginger (minced)
2 tbsp peanut butter
For the Annatto Oil (Achuete Oil)
½ cup Marca Leon Corn Oil
2 tbsp Achuete Seeds
To create your Annatto Oil, heat Marca Leon Corn Oil with the achuete seeds for 5 minutes, or until oil becomes orange-red in color, then strain. Combine the Annatto Oil with soy sauce, calamansi juice, Sorel Coconut Sugar, minced garlic and ginger, and the peanut butter, to make your Peanut Annatto glaze. Marinate beef for at least 3 hours or overnight in the mixture. Soak the bamboo sticks in water for 10 minutes, then skewer the beef. Grill and glaze each side of your skewers over high heat for a minute. I like using Marca Leon Corn Oil when basting because it helps lock in moisture and prevent the surface of the meat from drying up. Share with your friends and family, for some finger licking goodness!
DID YOU KNOW?
Oil your grill grate with Marca Leon Corn oil to prevent food from sticking when you grill. With Marca Leon Corn Oil's high smoke point of 450 oF, you don't have to worry about your food burning easily.