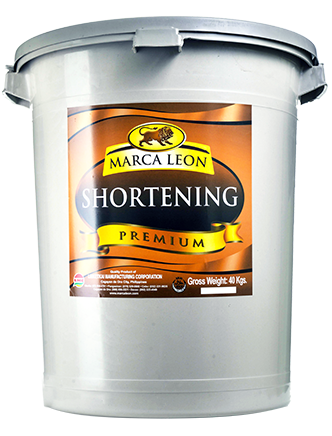 AVAILABLE SIZES
40kg Plastic Pail
20kg Carton
Premium Shortening
Marca Leon Premium Shortening helps promote the form and maintain the moistness of your baked goods, particularly that of bread loaves and cakes. It even helps give cookies that much desired crispy on the outside, chewy on the inside consistency!
Marca Leon Premium Shortening's zero-moisture content also makes it great for frying donuts because it does not cause much splattering, and also enhances its flavor. The result is a higher volume yield, and fluffy, moist baked goods with firm mold and structure.

It is cholesterol-free and rich in Lauric Acid because of the Coconut Oil base of Marca Leon Premium Shortening.